Poor health can be a very limiting experience. In order to increase your well-being, Personal Health Coaching supports you through active and individually tailored health promotion. I provide support in the following areas:
Stress regulation/ burnout / state of exhaustion.
Consequences of chronic stress such as:
Sleep disorders, lack of energy, vascular diseases, inflammatory processes, dysfunctions of the immune system
Depressive moods
Dealing with anxiety
Autonomy in old age
Chronic diseases / chronic pain
Overweight, weight management
Nutrition, eating behavior
High blood pressure, cardiovascular diseases
Personal Health Coaching aims to enable you to develop a sustainably healthier lifestyle and to manage your behaviour accordingly. Exercise, nutrition and stress management are the focus and are adapted to your individual needs. We analyse and reflect on difficulties and blockages that arise along the way and you are provided with appropriate methods to address them. In doing so, we focus on a mindful approach to yourself.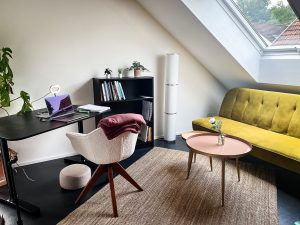 The personal health coaching is location-independent. It usually takes place over the phone or via video call. I offer on-site appointments in Umiken. Between the appointments, you will receive additional personalised support with a coaching app.
The coaching is based on scientifically recognised behaviour change techniques and was developed and tested at the University of Basel.
My principles in Personal Health Coaching
Individual, resource-oriented, sustainable.
Your current life situation is in focus, we work solution oriented on your personal goals.
Recognise and use nutrition, exercise and stress regulation as health-promoting resources.
Impart knowledge about these resources and strive for healthy behaviour.
Encourage self-care and find ways to sustainably consider it in everyday life.
---
Services and prices
I am not registered with the Experiential Medicine Registry (EMR), so cost-sharing by a health insurance company is unlikely. Learn more about my reasons under FAQ / health insurances.
10% of the full amount goes to a non-profit organization of choice (humanitarian, animal or environmental).
If you are having difficulty affording coaching, please contact me so that we can find an individual solution.